Alcaraz sets up clash with Djokovic in Paris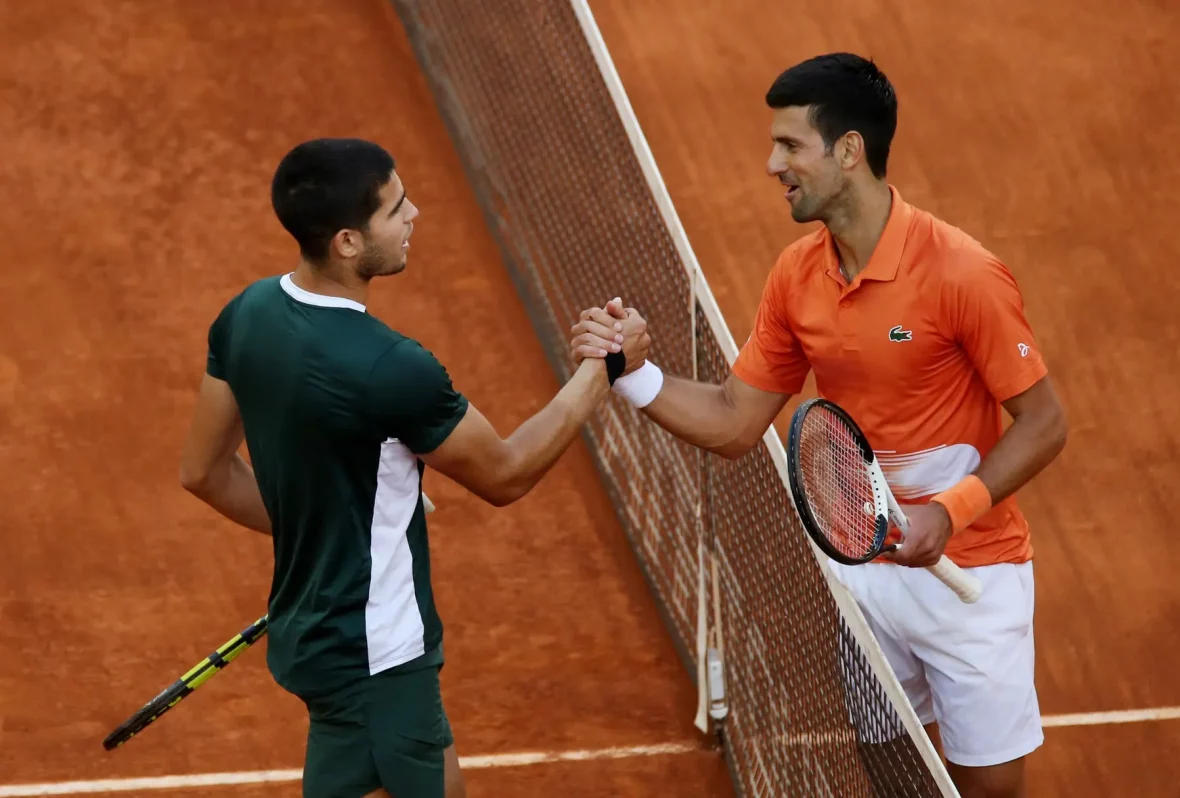 Don't miss the highly anticipated clash between Carlos Alcaraz and Novak Djokovic in the French Open semifinals. Discover the intriguing dynamics of this battle between a rising star and a tennis legend as they vie for a spot in the tournament's prestigious final.
The 2023 French Open has witnessed two remarkable displays of tennis brilliance, as Novak Djokovic and Carlos Alcaraz emerged victorious in their respective quarterfinal matches. Djokovic, the legendary Serbian, survived a challenging encounter against Karen Khachanov, while Alcaraz, the rising star from Spain, put on a breathtaking performance to stun Stefanos Tsitsipas. These victories have set the stage for a mouthwatering semifinal clash between Djokovic and Alcaraz, promising a battle between experience and youth. Let's delve into the extraordinary journeys of these two players and their monumental wins at Roland-Garros.
Djokovic's Resilience Shines Through
With an illustrious career that includes 22 Grand Slam titles, Novak Djokovic faced a stern test in the quarterfinals against Karen Khachanov. After losing the opening set, Djokovic demonstrated his trademark resilience, mounting a remarkable comeback. The Serb's unwavering focus and exceptional skill helped him secure a hard-fought 4-6, 7-6(0), 6-2, 6-4 victory, advancing him to the semifinals.
Khachanov showcased exceptional tennis throughout the match, but Djokovic's quality shone through, particularly in the second set tie-break where he delivered an astonishing 7-0 'bagel.' His ability to raise his game in crucial moments underlined why he is considered one of the greatest players of all time. Now, Djokovic sets his sights on a historic 23rd Grand Slam title, eager to add another chapter to his extraordinary career.
In a match that will be remembered as one of the best performances of the year, Carlos Alcaraz, the 19-year-old Spanish prodigy, displayed exceptional talent and determination against Stefanos Tsitsipas. Alcaraz's powerful and versatile game was on full display as he claimed a commanding straight-sets 6-2, 6-1, 7-6(5) victory over the world number four.
From the outset, Alcaraz's relentless aggression and control of the match left Tsitsipas struggling to find answers. The young Spaniard's remarkable maturity and poise belied his age as he dominated the first two sets with ease. Despite a spirited fightback from Tsitsipas in the third set, Alcaraz maintained his composure and secured the win in a thrilling tie-break. With this remarkable triumph, Alcaraz announced himself as a force to be reckoned with in the world of tennis.
The Battle of Generations: Alcaraz vs. Djokovic Set for Epic Showdown
Carlos Alcaraz faces a significant challenge in the French Open semifinals as he takes on tennis icon Novak Djokovic. Djokovic's exceptional skill set and unwavering determination make him a formidable opponent for the young Spaniard.
The semifinal matchup between Alcaraz and Djokovic embodies the clash of generations and playing styles. Alcaraz, with his explosive shot-making and fearlessness, will look to unsettle the experienced Serb and impose his own game plan. On the other hand, Djokovic, a master of adapting to his opponents' strategies, will draw upon his vast experience to counter Alcaraz's onslaught and assert his dominance on the court.
As the tennis world eagerly awaits this thrilling encounter, one thing is certain: Carlos Alcaraz has already proven himself to be a force to be reckoned with, and his match against Djokovic will serve as a significant stepping stone in his burgeoning career. Whether Alcaraz can overcome the seasoned champion or Djokovic can fend off the young prodigy remains to be
Novak Djokovic: A Tennis Legend's Journey to Greatness
For Djokovic, this victory carries immense personal significance as he finds himself in a fierce competition with Rafael Nadal for the most Grand Slam titles. With each passing tournament, the race to claim the coveted record becomes more intense. As Djokovic stands on the precipice of history, his desire to surpass Nadal and cement his legacy fuels his pursuit of greatness.
Djokovic and Nadal, both possessing 22 Grand Slam titles, have engaged in legendary battles on the court, elevating their rivalry to new heights. The French Open serves as the stage for Djokovic to inch closer to his goal, igniting a fire within him to surpass his long-time adversary and secure his place as the undisputed leader in the Grand Slam race.
A Clash of Tennis Titans and a Glimpse into the Future
In the midst of Novak Djokovic's awe-inspiring career, a young star has emerged, bringing a fresh wave of excitement to the tennis world. Carlos Alcaraz, with his electrifying talent and fearless spirit, has captured the imagination of fans around the globe. As Djokovic's journey continues, Alcaraz represents the next generation, poised to make his own mark on the sport. With each breathtaking shot and tenacious performance, Alcaraz showcases his potential to become a future champion.
As these two forces collide on the court, it symbolizes a passing of the torch, with Djokovic's legacy inspiring Alcaraz's rise. The world watches with anticipation as Alcaraz embraces the challenge, ready to etch his name alongside the greats. The future of tennis shines brightly, as Novak Djokovic and Carlos Alcaraz captivate us with their extraordinary talents and fierce determination.
FAQ
How did Carlos Alcaraz perform at the French Open?

Carlos Alcaraz delivered an outstanding performance, securing an impressive straight-sets victory over Stefanos Tsitsipas in the quarterfinals. His explosive game style and unwavering composure on the court have garnered significant attention.

How many Grand Slam titles is Novak Djokovic aiming for?

Novak Djokovic is aiming for a historic 23rd Grand Slam title at the French Open. With his impressive track record and exceptional skills, he is determined to break the tie with Rafael Nadal and solidify his status as one of the all-time greats.

When and where will the semifinal match between Alcaraz and Djokovic take place?

The semifinal match between Carlos Alcaraz and Novak Djokovic will take place at Roland-Garros in Paris, France. The exact date and time can be found in the official schedule of the French Open. Stay tuned for this highly anticipated showdown.